Hotel Croatia, is a five star hotel that lies on a peninsula overlooking the Adriatic on one side and the picturesque bay and the old town of Cavtat on the other. The hotel offers a large meeting hall (Ragusa) and a number of smaller meeting rooms of various sizes, offices and exhibition space.
The medieval town of Cavtat, the southeast pearl on the Dubrovnik Riviera has a population of some 1,500 inhabitants. In ancient times it was a Greek settlement known as Epidaurum. In the vicinity of Dubrovnik, Cavtat has grown to be a cultural and tourist centre of Konavle, the southernmost region of Croatia. The area is most attractive due to the Mediterranean vegetation, clear sea and a mixture of old and new architecture.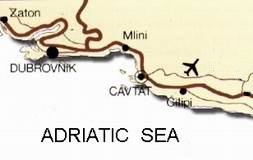 Dubrovnik is work of human inspiration. Dubrovnik is light, white walls, chiming bells and sea gulls that slowly flap their wings. It is a city that fills the heart. For centuries now it has explored freedom with verses sung to liberty, the greatest of all treasures cherished by the human heart. Centuries of insight and accord, a simple, charming urban entity, whose integral spirit and concordance are worthy of our deepest admiration. The city at the foot of hill Srdj is a highlight of the Adriatic and the whole Croatia.
It's an absorbing city of constant activities and visits to make. Things to see include the city walls, built between the 8th and 16th centuries, a Franciscan monastery with Europe's oldest pharmacy (still working), a 12th-century cathedral; an arsenal built in the 13th century, and a corn depot house (looking like a fortress) that dates back to the 16th century. But the greatest fascination of the town simply lies in its street life and street appearance, its medieval character, all combined with the rich and colorful vegetation of the Mediterranean region. Here, history, culture, and nature all melt into one harmonic unity. Apart from its historic atmosphere, Dubrovnik offers a remarkable number of cultural and entertainment programs, sea sports, sightseeing and excursion possibilities, specific Mediterranean cuisine and excellent Dalmatian wines.